Employment Opportunities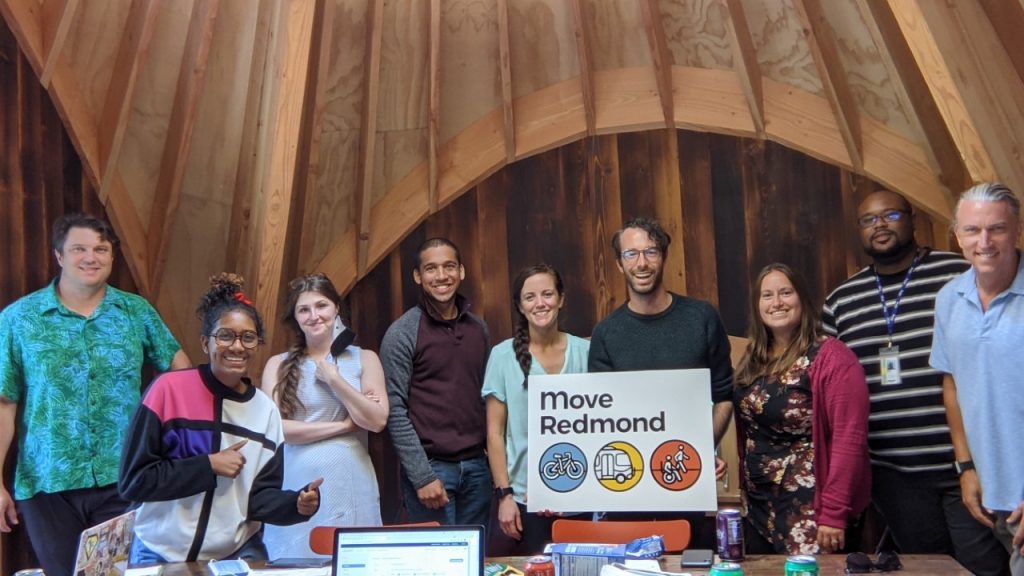 Move Redmond is now hiring two positions!
Move Redmond announces a regional search for a creative, confident self-starter who can lead the next phase of growth of the non-profit. The organization offers the right candidate an exciting opportunity for community impact and professional growth in a fast-paced, public/private environment. The organization currently includes an eight-person board of directors and three professional employees.
Application Process:
Position is open until filled; to be considered in the first round, applicants must apply by August 3, 2022, at 5:00pm.
Please send resume and cover letter with job title in the subject line to info@moveredmond.org to ensure consideration. Position will be open until filled. No telephone calls please.
People of color, women, LGBTQ people, and people with disabilities are encouraged to apply. Our organization strives to reflect the diversity of our community.
Membership & Development Manager 
Job Responsibilities:
Grow and support Move Redmond Members, both the Individual and business program
Plan and deliver workshops for member organizations (These could include bike policy rides, walking audits, networking meetings, employer panels, and technical training, etc.)
Develop customized transportation programs for employers and property managers
Coordinate, oversee, and report on Commute Trip Reduction services and Transportation Management Programs for our member businesses and property managers
General office coordination, including invoicing
Support other Move Redmond events as needed
Qualifications: 
Communicate technical information to non-technical audiences
Understanding of non-profit fundraising strategies and development best practices
Event planning experience
Curiosity about how transportation intersects with related issues like social justice, racism, housing policy, and environmental justice
Familiarity with Mail Chimp, Excel, Word, social media platforms, etc.
Desired Qualifications:
Familiarity with transportation issues, especially focused on walking, biking and transit use
Additional preferred skills include data analysis, mapping, Tableau software, Microsoft Power BI, and Adobe Creative suite
State and federal legislative processes and advocacy strategies are helpful, but not required
4-year bachelor's degree preferred
Compensation Annual salary of $70,000 – $75,000 depending on qualifications, plus full medical, dental, vision benefits, paid time off, short and long-term disability, retirement plan and annual ORCA Passport transit pass. Funding for professional development. Flexible hybrid remote/ in person
Communications & Community Engagement Manager
Job Responsibilities:
Develop communications plan for advocacy campaigns
Create one pager, infographics, posters, newsletters, action alerts and other communication materials to convey advocacy priorities and promote events
Cultivate and maintain relationships with organizations and community leaders that are representative of constituencies that are most impacted by systemic oppression; Black, Indigenous, and other People of Color; immigrants and refugees; LGBTQ; and people with disabilities.
Manage the Our Commute, Our Story program, gathering stories of people who live and work and Redmond
Update website using WordPress
Maintain social media platforms, emphasizing engagement
Support other Move Redmond events
Qualifications: 
Familiarity with transportation issues, especially focused on walking, biking and transit use
Communicate technical information to non-technical audiences
Understanding Community organizing and community engagement principles
Excellent writer, editor, and social media manager
Familiarity with Mail Chimp, WordPress, Excel, Word, social media platforms, etc.
Understanding of how social justice issues, including racial disparities intersect with public policy and transportation
Desired Qualifications:
Additional preferred skills include data analysis, mapping, Tableau software, Microsoft Power BI, and Adobe Creative suite
State and federal legislative processes and advocacy strategies are helpful, but not required
4-year bachelor's degree preferred
Compensation Annual salary of $70,000 – $75,000 depending on qualifications, plus full medical, dental, vision benefits, paid time off, short and long-term disability, retirement plan and annual ORCA Passport transit pass. Funding for professional development. Flexible/ hybrid remote and some in person events